FORESTRY MULCHERS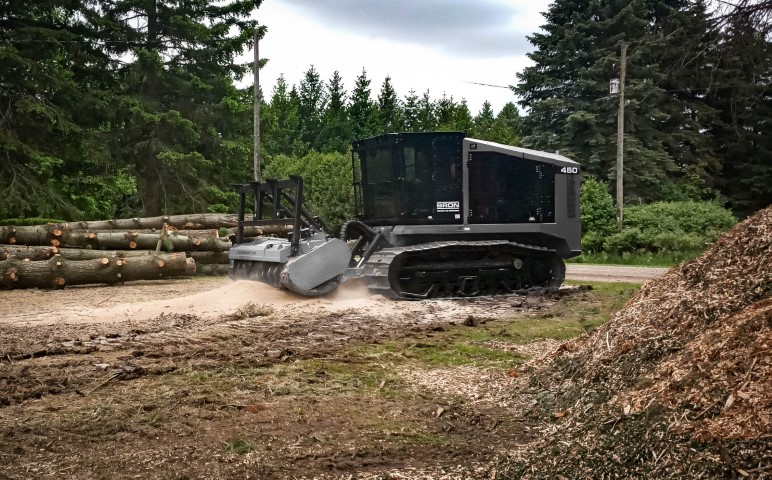 What is a Forestry Mulcher?
Forestry mulchers are primarily utilized for the upkeep and cleaning of forests and various green areas, which involves the removal of shrubs, bushes, and branches, as well as tree pruning. These devices are also used for soil preparation for planting seeds and trees, trail creation, clearing out areas affected by fire, and establishing fire breaks. Given their versatility and ability to work with a broad spectrum of operating machines, forestry mulchers are exceptionally suited for tasks related to vegetation management and upkeep.
There is no shortage of alternatives when it comes to clearing forestland, such as manual labor, bulldozers, excavators, and burning. However, two primary reasons make forestry mulchers a more compelling choice:
Forestry mulching provides speedy and cost-effective results.

Forestry mulching contributes to environmental sustainability.
With the ability to simplify processes, forestry mulchers can replace multiple steps, saving you time and money. They are capable of clearing and disposing of forestland in one fell swoop, eliminating the need for additional machinery or workers to cut down, gather, and remove the debris.
Moreover, a forestry mulcher not only eliminates vegetation but also recycles it back into the ecosystem in a processed form. This results in the biomass being evenly spread across the soil, preventing it from drying out after vegetation removal and avoiding wind and rain erosion. The mulching process also promotes the natural formation of a nutrient-rich humus layer, enriching the soil fertility over time.
Our forestry mulchers are designed for extended durability and peak efficiency, proving to be an invaluable asset for the environment and our customers. They are also known by several names, such as brush cutters, cutter heads, and mulching heads.
Our forestry mulchers are proudly manufactured in Canada, promising excellent service life, top-tier efficiency, and high-quality crushing capability.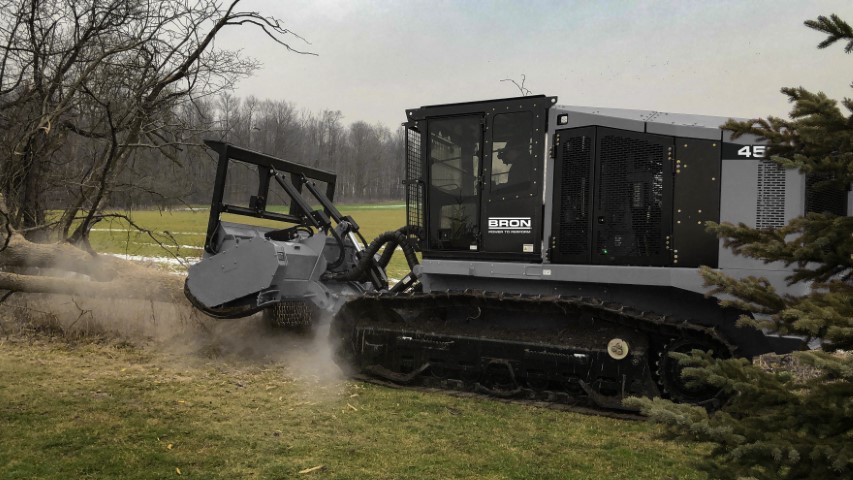 Applications for Forestry Mulchers
• Land Clearing: Clearing sites for secondary vegetation and construction purposes, including forest clearance for projects like wind farms, parks, roads, and golf courses.
• Infrastructure Measures: Preparing land for infrastructure projects through complete or selective clearing.
• Extraction and Access Routes: Creating and maintaining unpaved roads for long-term access to forest stands and transport of harvested timber.
• Forestry: Providing durable, robust, and productive tools for the forestry industry to extract lumber from harvested areas.
• Stump Grinding: On-site stump milling, tree stump shredding, and root stock recycling. • Removal of Beetle-Infested Wood: Quick removal of infested trees to prevent further spread and damage.
• Wildfire Prevention: Clearing surface vegetation to reduce fire risk and limit spread. • Reclamation and Recultivation: Utilizing land for commercial purposes like agriculture and plantations, involving soil preparation.
• Plantation Agriculture: Serving a wide array of plantation needs, from forestry plantations like eucalyptus and pines to fruit plantations like pineapples, bananas, and apples.
• Special Applications: Including seismic lines, natural availability, landscape and habitat maintenance, embankment maintenance, re-naturalization, and composting.
• Right-of-Way Maintenance: Ensuring clear paths for electricity and overhead cables, underground cables, pipelines, and railway lines.
Choose our forestry mulchers for their uncompromising performance, optimal efficiency, and long-term reliability.
BRON Forestry Mulcher
Explore the Features of our new 450B Forestry Mulcher:
ERGONOMIC DESIGN
Pressurized cab has joy- stick steering & seating designed for operator comfort with height, headrest & seat tilt adjustments & air-ride suspension to reduce operator fatigue.

TILTING CAB, LEXAN &ROPS/FOPS
1/2" Lexan TM standard with optional 11/4" windshield protects the operator from high speed debris. ROPS & FOPS certified for added safety. Tilting cab for easy service access.

OSCILLATING TRACK
Frames pivot freely for maximum surface contact & traction. Wide tracks add stability & flotation in sensitive environments. Standard or full track guides available.

REAR-VIEW CAMERA
The wide-angle lens reduces the need to look over your shoulder, allowing you to focus on the task at hand!

REMOVABLE BELLY PANS
For easy cleanout & service with recessed fasteners for a smooth underside.
 
COLD START & LOW RUNNING TEMP
Intake manifold grid pre-heat warms the engine while oversized heat exchangers & a proportional fan circuit cool as needed.
Explore the Options of our new 450B Forestry Mulcher:
POSITIVE AIR SHUT-OFF
The positive air shut-off shuts down the engine by preventing engine air intake.

AUDIO
Digital media receiver (AM/FM/USB) with built-in Bluetooth for streaming any audio from your mobile device.

HYDRAULIC WINCH
Available with 30,000 lb hydraulic winch.
 
PRO HEAT
Diesel powered pre-heating solution for quick and reliable cold weather starting.
 
FRONT WINDOW GUARD
The front window guard protects the front window from large branches.
AUX BATTERY GROUP Two additional Batteries for additional cranking power.